Master HubSpot with Our Free Email Course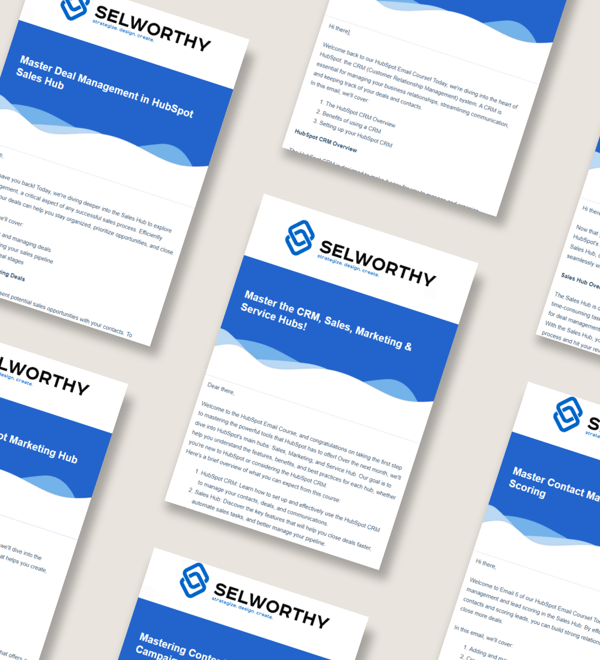 Master HubSpot with Our Free Email Course
Unleash the full potential of HubSpot with our comprehensive 12-part email course. Whether you're new to the platform or looking to deepen your knowledge, our step-by-step guide will help you navigate the CRM, Sales, Marketing, and Service Hubs with ease. Sign up now and transform your business with expert tips and best practices, delivered straight to your inbox!
Learn to effectively use HubSpot's CRM, Sales, Marketing, and Service Hubs
Improve lead generation, conversion rates, and customer satisfaction
Discover best practices for content creation, email marketing, and customer support
Save time and resources with expert guidance and actionable insights
Course Outline
Welcome & Introduction
Getting Started with HubSpot CRM
Sales Hub Introduction
Sales Hub - Deal Management
Sales Hub - Contact Management
Marketing Hub Introduction
Marketing Hub - Content Creation
Marketing Hub - Email Marketing
Marketing Hub - Lead Generation and Nurturing
Service Hub Introduction
Service Hub - Ticketing & Customer Support
Course Recap & Next Steps
Don't miss out on this valuable opportunity to master HubSpot!
Join the Growing Community
"
Selworthy helped our company with re-onboarding onto the Hubspot platform. They are very knowledgeable and really drilled down to figure out the best way to approach our goals and needs before we set anything up within Hubspot. They were not afraid to question and challenge us to make sure we were going to set Hubspot up in the most efficient way. I would definitely recommend Selworthy
"
"Selworthy has taken a comprehensive approach to fixing and integrating all of our marketing/sales systems and campaigns. They work quick, intelligently, and are fairly priced. I will be using them any time I set up new systems going forward"
"Working with Dane and Kris these past 2+ years has been a great experience and they have been instrumental in increasing both our online outreach and sales. They have also helped refine our CRM and marketing efforts. Exceptional people with the knowledge to back it up as well!"
"The team at Selworthy are Hubspot wizards who don't just execute on projects but provide a holistic approach that always keeps our end goals and needs at the forefront"